28 SEPTEMBER 2022
Please check out the Another-Link-in-the-Chain page to learn more about the Class of 2023's upcoming Service Community Assignment Night
This is what we referred to as Service Selection Night
Up to fifty (50) members of our Class are invited to attend.
28 SEPTEMBER 2022 – USNA CLASS CREST INITIATIVE

Vinny DiGirolamo,  '78 Class President, has asked that the following letter be made available to all USNA alumni.  It concerns an effort to assist Shelby Smith, a Disabled Veteran (Army Medic) who was wounded during the Fort Hood shooting massacre, to establish a 3D printing business.  Among Shelby's potential products are printed ornaments and plaques using Academy Class Crests.  Should you be interested, please contact Vinny directly.  USNA Class Crest Initiative
23 SEPTEMBER 2022- IMPORTANT UPDATES
Classmates –
PLEASE refer to the 50th Reunion Info Page for the latest schedule of events and pricing for our upcoming reunion.
PLEASE also see the Class Interest Groups Page for an update from the 73 Power Prayer Team (PPT).
17 JUNE 2022 – 25 CLASSMATES AND THEIR SPOUSES ATTEND CLASS OF 2023 RING DANCE ON MAY 21st
Please check out the 2023 Ring Dance page of this website for a rundown and some great photographs of the Class of 2023's Ring Dance. Our participation was part of the Another-Link-in-the-Chain Program. Here is the link:  19732023 Ring Dance | (usnaclasses.net)
25 MAY 2022 – COACH CANIN GABARRA AWARDED USNA CLASS OF 1973 HEINZ LENZ FELLOW AWARD
Link to .PDF file: 2022 – Carin Gabarra Heinz Lenz release
ANNAPOLIS, Md.—Head women's soccer coach Carin Gabarra has been awarded the Naval Academy Class of 1973 Heinz Lenz Fellow Award.  This award recognizes the importance of leadership through Athletics Excellence as a contributor to the overall mission of the Naval Academy to develop midshipmen morally, mentally and physically. The recognition commemorates the Athletics Excellence pillar in honor and memory of Coach Heinz Lenz.
The son of the late Amalie and Frederick Walter Lenz, Lt. Cmdr. Lenz was born March 31, 1925, in Berlin, Germany, and came to the United States when he was age 15. He served in the Navy in World War II as an enlisted sailor and landed at Normandy in France on D-Day Plus 2. He joined the Naval Reserve and retired as a lieutenant commander.
He graduated from Ohio State University with a bachelor of arts degree in modern languages in 1948 and earned a master of arts degree in physical education in 1949 at Columbia University.
He taught at St. Mark's College, a preparatory school in Dallas, Texas, before joining the faculty at the Naval Academy in 1957. In 1968, as a member of the physical education department, "Coach" Lenz developed "PEP," a daily exercise program for the incoming class of plebes. He continued to lead "PEP" until 1992 and retired from the academy in 1994.
He co-authored a book, "Fit for Life: The Annapolis Way." In 1992 he was selected as one of the nation's 10 Healthy American Fitness Leaders by the President's Council on Physical Fitness and Sports and the U.S. Chamber of Commerce.
"I am extremely humbled to receive the Heinz Lenz Fellow Award and I want to extend my sincere thanks to the Class of 1973 for the award creation and to Director of Athletics Chet Gladchuk for his unwavering support of our program," said Gabarra. "Heinz Lenz is an icon at the Naval Academy and he believed deeply in the mission. His devotion to athletics was an important component for midshipmen development and coaches Rob Blanck, Mike Melton and I hope to serve our exceptional and driven athletes with the same passion, pride, and commitment as he did in his tenure."
"This ongoing tribute to Coach Lentz, coupled with the generosity and historic sentiments of the Class of '73, make this distinction to an extraordinary educator on the NAAA staff most special," said Gladchuk.  Coach Lentz meant so much to so many over the years.  His inspirational values remain embedded in the fiber of character development at the Academy.  His qualities as a person and his legacy of influence are reflected in Coach Gabarra.  History and traditions are so important to the physical mission at Navy and Carin covers that responsibility as well as anyone, with her humility, dignity, and unparalleled success."
Gabarra has been the head women's soccer coach at the Naval Academy since the program started in 1993 (29 seasons).  She has compiled a record of 362-164-58 and is the Patriot League's all-time wins leader.  Her 362 wins rank 40th in the history of NCAA Division I women's soccer and are the 17th-most wins among active coaches.
Gabarra has been named Patriot League Coach of the Year five times and has led the Mids to five NCAA Tournaments (2003, 2006, 2007, 2009 and in the 2020-21 covid year).  Women's soccer student-athletes have won 31 Patriot League Major Awards (offensive, defensive, midfielder, goalkeeper or rookie of the year) and 21 have been named CoSIDA Academic All-Americans, including at least one in each of the last seven years.
In the spirit of Coach Lenz's total commitment to the development of young people in becoming Leaders of Great Character, the recognition appoints a current varsity or club coach to the Coach Heinz Lenz Chair. The appointment will be for a two-year term, consideration for one additional two-year term. This distinction may extend additional leadership and/or administrative opportunities, and is founded by the Class of '73 with an annual stipend for her meritorious achievement.
In addition, the Navy Women's Soccer Program will receive supplemental margin of excellence funding through the generosity of the Class of 1973.
The coach selected for this distinction will be the head coach or an assistant coach of a non-revenue sport (varsity or club). The coach should epitomize Coach Lenz's leadership qualities and attributes, to include (but not be limited to): a keen sense of integrity; competitive team spirit; commitment to the Naval Academy mission; a joy and passion for his/her profession; and an expectation to win on the field and in life.  Men's rugby head coach Gavin Hickie was the inaugural winner in 2020.
10 MAY 2022 – SERVICE ACADEMY CAREER CONFEENCE IS BACK-IN-BUSINESS, IN-PERSON!
SACC:  After 26 years, the Service Academy Career Conference (SACC) is continuing to better serve our service academy alumni. While much is changing, you can count on SACC to continue providing outstanding opportunities to connect with industry-leading companies and premier academic institutions as you navigate career transitions and consider pursuing graduate degrees. SACC is back to in person in 2022. Whether you're searching for top talent for your organization or a new opportunity for yourself, join and/or contact us for SACC.  Your Alumni Community is here to support you!  Career Programs department has assisted thousands of grads with their military to civilian transitions, job changes within the civilian sector and meeting prestigious university admissions recruiters for veteran friendly advanced education opportunities (MBA, EMBA and technical degrees).  Career Counseling is available by appointment to alumni making career/job transitions from the military or moving in the civilian sector. Email Joe Fagan.
Here is the link for more information and registration: https://sacc-jobfair.com/
19 APR 2022 – ATHLETIC & SCHOLARSHIP PROGRAM HONORS GEORGE WATT
On 8 April 2022, at the semi-annual meeting of Athletic & Scholarship Program Trustees meeting in Annapolis, Classmate George Watt was surprised by RADM Tom Lynch's presentation of a long overdue and well-deserved award of the Navy Goat in full on battle regalia. George is a former President/CEO of the Alumni Association.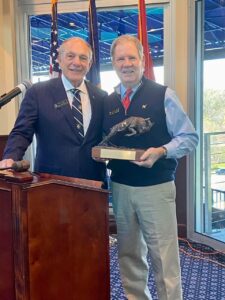 The plaque is inscribed as follows:
USNA ALUMNI ASSOCIATION & FOUNDATION
George Watt
with grateful appreciation for your service as President/CEO
2000-2008
George, all of '73 thanks you, and we are so very proud! Thank you for all you have done for the Naval Academy, the Class of 1973, and the Navy.
19 APR 2022 – MARCH 24, 2022 SPECIAL EVENT
The Class celebrated several special events on March 24, 2022 in the Aerospace Engineering Office spaces in Rickover Hall at USNA.
Enshrining a montage from Classmate Ken Reightler's STS-60 Space Shuttle mission
Putting on display a propeller salvaged from '73's time in the Aero Department.
Unveiling Classmate Ray Fulton's wooden ship model of a "Baltimore Clipper"
Ray's wife, Nancy, attended the event, as did Ken, 17 of his 1973 Classmates, numerous Aerospace Engineering majors from our ALITC sister class of 2023, and CAPT Cecily Walsh, USN (USNA 2001), Associate Chair of the Aerospace Engineering Department.
As an Astronaut, Ken was the pilot of the first joint U.S.-Russian space shuttle flight, and the montage contains items commemorating the Class of 1973's involvement in that flight including a class patch that was on Discovery during the mission.  The partially damaged propeller is an artifact from Ken's time as a midshipman. Both he and Classmate Jim Ewing were Aerospace Engineering majors, and during first class year they participated in hovercraft experiments on Hospital Point. During one such experiment, their craft hit the seawall, and the propeller that is now on display reflects that collision.  This event provided some useful lessons for the Department, including the crew, on the need for greater Safety Awareness.
Ray was a Naval Architecture major at the Academy.  Before his death, he built some very detailed ship models.  The Baltimore Clipper ship model that was unveiled at this event will be put on the display in the Robert Crown Sailing Center at the Academy.  Being faster and more maneuverable than British warships, Baltimore Clippers enjoyed considerable success as "blockade runners" during the War of 1812.
Photographs of the event follow.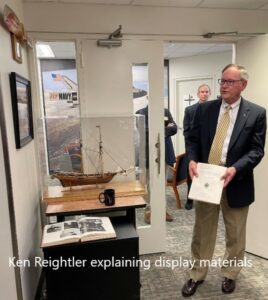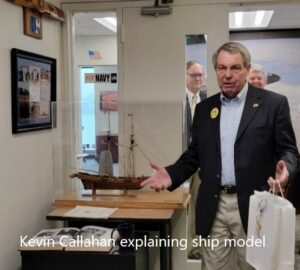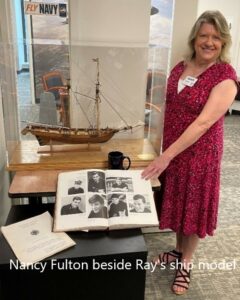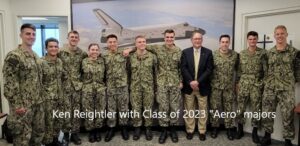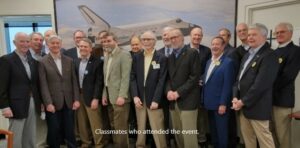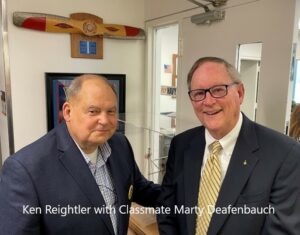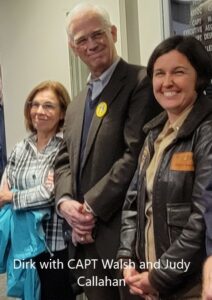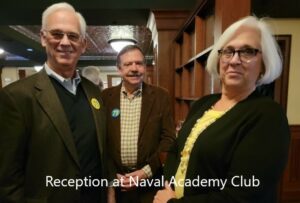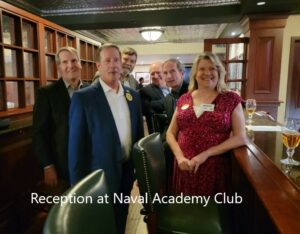 11 MARCH 2022 – PLEASE READ THE FOLLOWING REQUEST LETTER FROM OUR CLASS PRESIDENT, DIRK MOSIS
Classmates:
Circa 25 February 2022, I sent approximately 800 snail mail letters to Classmates for whom the Foundation had USPS addresses (see letter, below). If you received it, you can delete this e-mail, pencils down. If you did not receive it, we do not have an accurate address for you, so please send me and your Company Representative an updated address.
I sent the following: a thank you/please give letter accompanied by pledge form (below is a non interactive pdf) and a stamped, addressed envelope to the Foundation. For those of you who responded, thank you. For those who did not receive the letter, this e-mail is just to be sure you do not feel ignored nor left out. For those so inclined, the links below provide an opportunity to join your Classmates who have heeded the call.
Thank you. Go Navy!
Non sibi,
Dirk
THE LETTER:
January 2022
Happy New Year! I hope you had a Merry Christmas and a Happy Holiday Season! Army over Navy in football was a great ending to '21.
We have about 600 days and a wake up until our 50th Reunion, to be held over the weekend of 7 October, 2023. I look forward to seeing you and yours for our largest Class reunion ever.
Our Legacy Gift Campaign is achieving monetary goals, for the most part. If you have participated, thank you very much. The Midshipmen are the beneficiaries of our gifts, and we are making a difference.
Thanks to our great Class of 1973, Midshipmen are already receiving cyber tutoring at the Academic Center; the Fred Minier Resident Ethics Fellow at the Stockdale Center is in place; non-revenue coaches are being recognized and supported financially via our Heinz Lenz Fellow Award; and, the Superintendent and the Naval Academy Foundation are benefiting greatly from our gift to the unrestricted Naval Academy Fund. Additionally, many of you have given to other Foundation-sanctioned activities such as the Parachute Team, Crew, Rugby, and more. Thank you!
If you have not given, I ask you to consider using the enclosed form and envelope to do so, or link http://www.usna.com/give/1973 , or to contact our Foundation Liaison, Dan Quattrini, at dan.quattrini@usna.com  or at (952) 210-5533 to make your gift.
Our goal is 73% participation. We are at approximately 51%. To those who haven't given, we need you. If you have a question, please contact me or your Company Representative. I realize you may give to other worthy philanthropic activities, but I ask you to consider a gift to our campaign. If you have given, and want to further assist, please use the enclosed materials or contact Dan.
For 99% of us, we are better men for having attended the Academy. Thank you for considering your gift to assist those Midshipmen who, in all likelihood, are not much different from all of us 50 years ago.
/s/
Non sibi,
Dirk
10 MARCH 2022 – PLEASE READ THE FOLLOWING ABOUT AN IMPORTANT EVENT AT THE ACADEMY ON 24 MARCH 2022 HONORING TWO OF OUR CLASSMATES – KEN REIGHTLER AND RAY FULTON.  THOSE CLASSMATES WHO LIVE IN THE ANNAPOLIS AREA AND WHO ARE ABLE TO ARE STRONGLY ENCOURAGED TO ATTEND – YOU WILL GLAD THAT YOU DID!
Classmates:
Mark your calendars for 1400 24 March!In lieu of our normal quarterly happy hour, Kevin Callahan has arranged the special event described below.
"'73 is fortunate to celebrate two special events on March 24 in the Aerospace Engineering Office spaces in Rickover Hall at USNA.  We will enshrine a collage of memorabilia from Classmate Ken Reightler's  STS-60 shuttle team and display a propellor salvaged from '73's time in the Aero Department.  We will also unveil Classmate Ray Fulton's wooden ship model,"Baltimore Clipper".  We will be joined by Nancy.  We have arranged to display the model most appropriately in the Robert Crown Sailing Center's Trophy Deck (second floor) in the near future.
We will rendezvous at Ken's office, 326ARickover Hall at 1400 joined by the Chairman, Dr. Pettit, classmates and Aero majors (hopefully many 2023ers).
Afterward we will amble to the Naval Academy Club for refreshments.  Please RSVP to Bruce and Dirk so we can give a heads up to the Club if we are approaching overwhelming (so we need another bartender!).
I recommend parking at the main garage across from Alumni Hall.  On a Friday afternoon at close to 2 PM, parking may open up in front of Mahan Hall for the gamblers in the crowd!
I recommend wearing your '73 pins so mids will be more apt to give directions to geezers roaming their halls and maybe help you recognize that old guy across the room!
As of now (3/7/22), masks are not required at USNA.  But you'd be well-served to be prepared…OBSTCR!
Ladies and guests are of course welcome. Uniform of the day is business casual – sports coats without ties.
Please respond to Bruce Hargus, Dirk Mosis or Kevin Callahan if you plan on attending.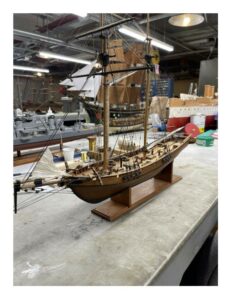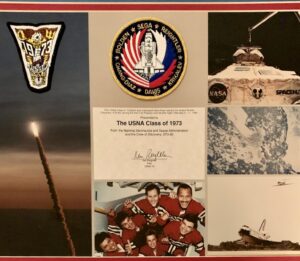 10 MARCH 2022 – THE ALUMNI ASSOCIATION AND FOUNDATION RECENTLY ANNOUNCED THE 2022 UNITED STATES NAVAL ACADEMY LEADERSHIP FORUM, TO BE HELD ON APRIL 29-30, 2022, IN ALUMNI HALL.  MORE INFORMATION AND A REGISTRATION LINK IS PROVIDED ON THE ACADEMY NEWS  PAGE: http://1973.usnaclasses.net/academy-news/
6 MARCH 2022 – THE ALUMNI ASSOCIATION HAS RELEASED THE RESULTS OF THE 2021 ALUMNI SURVEY.  YOU MAY ACCESS THE SURVEY RESULTS VIA A LINK ON THE ACADEMY NEWS PAGE OF THIS WEBSITE.
5 MARCH 2022 – CLASSMATE DONALD ATCHISON OF CHARLES TOWN, WV PASSED AWAY ON FEBRUARY 27, 2022.  PLEASE SEE THE LAST CALL MEMORIAMS PAGE http://1973.usnaclasses.net/last-call/  OF THIS WEBSITE FOR FURTHER INFORMATION.
26 FEB 2022 – PLEASE GO TO THE ANOTHER LINK IN THE CHAIN PAGE TO SEE AN IMPORTANT UPDATE FROM OUR ALITC COORDINATOR, JOE STEWART, CONCERNING THE CLASS OF 2023 RING DANCE    http://1973.usnaclasses.net/a-l-i-t-c/
15 JANUARY 2022 – PHOTOGRAPH FROM NATIONAL COLLEGIATE SKYDIVING CHAMPONSHIPS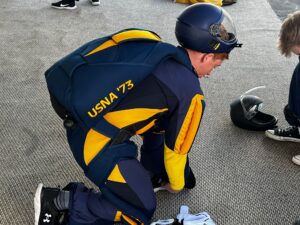 Led by Eric Olson, the Class of 1973 has made various donations to support the Naval Academy Parachute Club.  As shown above, recognition of our sponsorship is reflected on some of their gear.
4 JAN 2022 – Here is what Annapolis looks like after a rare 12-inch snowfall.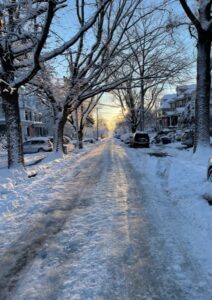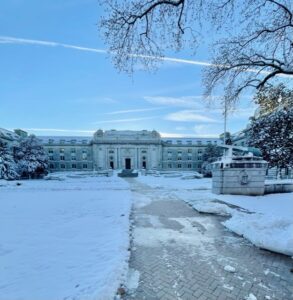 THIS PAGE CONTAINS INFORMATION THAT IS OF SPECIFIC INTEREST TO THE CLASS OF 1973
General Note: Should you have any questions or concerns about the information provided on this website, you may contact the webmaster at the following e-mail address: 1973usna@gmail.com
Please note that the website contains a page entitled  CLASS INTEREST GROUPS    This page lists various Classmate interests and activities.  This list of Classmate interests and activities is provided for general information purposes only, and none of these interests or activities is organized, sponsored, directed or controlled by the U.S. Naval Academy Class of 1973 Association, Inc. 
8 JAN 2022 – Please see the following update from Doug Leland on the RECOGNITION BIKE RIDE
SPECIAL EVENT – RECOGNITION BIKE RIDE
The Class of 1973 50th Reunion Recognition Ride
Background
 The Class of 1973 Recognition Ride is a cross country bike ride organized to symbolically gather deceased classmates back to Annapolis for our 50th reunion in 2023.
Ride Format
 The ride will be a thru-ride. This format translates to a core team advancing as a group and riding the full 3,200 mile route. Accommodations will vary between camping and motels.
Segment rides organized by classmates, family and friends who want to share a few hours or days along the route are welcomed. Contact me if you'd like more information on how segment rides can coordinate with the overall ride.
Route
 The current route is from Astoria, OR to Annapolis, MD. A few of the connecting communities include Portland, OR; Boise, ID; Jackson Hole, WY; Casper, WY; Norfolk, NE; Des Moines, IA; Davenport, IA; South Bend, IN; Toledo, OH; Pittsburgh, PA; Cumberland, MD; and Washington D.C. (There may be some adjustments to the route between Davenport, IA and Pittsburgh, PA once more is learned about specific route options.)
The total mileage is 3,198 miles, which includes 91,504 feet of elevation gain. The trip will take 68 days — 59 riding days, 4 rest days, and 5 contingency days. The route includes 986 miles of cycleway or off-road trail suitable for touring bikes. Turn by turn, written directions and voice supported navigational software will be available for riders and those providing support.
Recognition Ride Dates
The ride will begin on 7/29/23 at Navy Heights in Astoria, OR and conclude in Annapolis on Wednesday, 10/4/23 … just ahead of planned 50th Reunion activities.
A Little More About the Ride
The primary purpose of this bike ride is to honor our fallen classmates by symbolically gathering each to Annapolis for our 50th reunion. Each riding day during the 68 day crossing will be dedicated to one or two of our deceased classmates. A social media portal will post anticipated dates dedicated to individual classmates as well as a means for classmates, family, and friends to share personal tributes, photos, and memories.
It is hoped that all in our class, along with families and friends of fallen classmates, and other alums will participate in the Recognition Ride, either vicariously through the Recognition Ride portal, by riding with the team for a few miles or by providing support along the way. Our deceased classmates remain links in our chain, and this is one opportunity to honor their contributions to country, family, and the lives and legacies of those in the Class of 1973.
There is still room on the Thru-Ride team for any member of '73 who would like to join us. Contact me if you'd like more information.
Non Sibi,
Doug
Doug Leland
doug@DougLeland.com
207-522-7620
31 OCT 2021 – The Naval Academy Alumni Association and Foundation sent the following email broadcast.
Alumni and Friends:

Join us Wednesday, 10 November 1-2 p.m. EST for an update on the plans and construction of the U.S. Naval Academy Alumni Association and Foundation Center.

The Project Committee Chairman, ADM Robert J. Natter '67, USN (Ret.), and CDR Craig Washington '89, USN (Ret.), Vice President of Engagement at the Alumni Association will take you inside the project, share the impact the new facility will have on alumni engagement and services, and how you can be a part of it. Demolition at the new facility's site is scheduled to begin in November with construction expected to take 17 months.

Additionally, Dan Quattrini '81, will share insight to how our alumni classes are supporting the project and how your class can leave their mark on this historic effort. This discussion provides an opportunity to learn more about this distinctive initiative—the first facility in history dedicated to the achievements of the U.S. Naval Academy alumni community.

Register online here: https://www.usna.com/event?ID=9C1569B4-AE7F-48F8-A415-D580A22B92BB
U.S. Naval Academy Alumni Association and Foundation
247 King George Street, Annapolis, MD 21402
(410) 295-4000 | www.usna.com  
30 Dec 2021 – Death of Classmate Edward Randolph Reinhardt on 27 Dec 2021.  Please refer to the Last Call page of this website for further information and an obituary.
17 SEP 2021 – The Naval Academy Cemetery/Columbarium participates in the Wreaths Across America (WAA) program.  Here is a plea for donations for the USNA WAA Coordinator:
Dear Class Representatives and Friends of USNA:
It's that time of year I start asking for sponsorship for the Wreaths Across America (WAA) at the USNA cemetery.
Nine years ago we started WAA at USNA at the request of a gold star Mom and Dad. We started out slow the first two years, but for the last 7 years, thanks to your generosity, we have been able to lay a remembrance wreath for each head stone and the entire columbarium during the wreath laying ceremony in December.
The wreaths are donated by each of you and I truly appreciate your kindness. Every year I hear stories from roommates who want to honor that bond formed so many years ago, grandchildren that can't be here but want to honor their grandparents, and gold star families who lost a loved one way too soon. They are so grateful that we can do this to honor and remember the special person they knew and loved.
The ceremony will be Friday December 10, 2021 TTD. ( probably about 0900) This is the day before the Army Navy game. At this point we are unsure of the complete details, due to Covid, and will wait until closer to the date to see what USNA will permit for attendance. We are hoping that things will be open and that we will be allowed to have as many as would like to attend to lay the wreaths.
Here is how you can donate:
Go to:       Wreaths Across America
Scroll down to "Sponsor Wreaths"
The site will then guide you to check out
By going to this site for every two sold, the USNA cemetery will receive one wreath for free.
Please donate, we are looking for 2700 wreaths this year.  The Class of 1981 is once again sponsoring this effort and if you would like to check on the validity of this cause please feel free to contact the class of 81's president, James "Otto" Stutz, CDR (Ret.) at otto@1981.usna.com or via cell at 757-618-4487.
You can always contact me with any questions, and thank you for your support.
Carol Turman, Coordinator – Wreaths Across America USNA
Cell – 443-336-6541
14 SEP 2021 – PLEASE SEE THE ALITC PAGE OF THIS WEBSITE FOR IMPORTANT UPDATES FROM OUR CLASS ALITC COORDINATOR JOE STEWART.  THE FOLLOWING ITEM IS SEPCIALLY TIME-CRITICAL SINCE IT CONCERNS AN EVENT WHICH WILL TAKE PLACE ON 30 SEP 2021:
A near-term event has just popped up on the ALITC calendar.
It's the Class of 2023 2/C Legacy Reception for the Parents of '23.
Date and time – September 30th from 1630 to 1830.
Place – Ogle Hall (Alumni House) 247 King George Street, Annapolis MD 21402.
How many can attend – four Classmates.
Can we bring spouses/significant others – yes.
Purpose – to mix and mingle and socialize with the Parents of our ALITC Class.
RSVP – please let me know (via email preferred) NLT June 26th.
Dress code – sports coat and tie, equivalent for ladies.
I regret the short-fuse on this one…..I received notification only yesterday (September 13th).
I also regret that our attendance is limited to so few. Since attendance is limited, we'll go with the first four Classmates who RSVP "yes".
Joe Stewart, USN (Ret.): 410-271-9655; jdsusn@comcast.net
8 JUN 2021 – In his June 6th "48th Anniversary" email to the Class, Dirk Mosis noted that Kevin Callahan has a sweat-stained Dixie Cup in his possession. It is not Kevin's.  The cap is depicted below – one can almost make out "73…" id number. We are posting it to see if anyone who still has his full visual faculties might recognize it.  Please contact Kevin if you have any insight into the owner of the cap.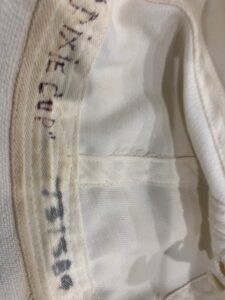 As a related matter, if anyone has a full or partial list of our class which includes "alpha codes", please contact our webmaster, RIck Elliott, at 1973USNA@gmail.com   This photo is the second item that has been brought forward recently with only a Class of !973 Midshipman ID Number as identification.  It would be useful to have a copy of "alpha codes" in the Class Archives.
14 MAY 2021 – Our class recently received the following letter and photograph from the Academy's Parachute Club.  The letter references LANCE FREMD, a classmate who sadly died in a skydiving accident on the Maryland Eastern Shore in the summer of 1972.
14 MAY 2021 – The USNA Council of Class Presidents met on 29 APR 2021.  Please see the Academy News page of this website to view the very interesting presentation slides from that meeting:  http://1973.usnaclasses.net/academy-news/
10 MAY 2021 – Video from the Bonds of Gold ceremony on 26 APR 2021
Please check out the ALITC page ( http://1973.usnaclasses.net/a-l-i-t-c/  ) to see a video of the recent Bonds of Gold ceremony. 3 of our classmates who donated their class rings for this initiative and spoke at the ceremony.
7 MAY 2021 – ANNOUNCING THE 50th REUNION  COLOR COMPANY COMPETITION
What is The 50th Reunion Color Company Competition?
In the Spring of 2021, The 50th Reunion Campaign Committee will launch The 50th Reunion Color Company Competition to help boost the participation from all of our 36 Companies.  No 50th reunion class has gone above 60% participation, but the Class of 1973 is NOT just any class. Our goal is to have 73% participation.  The Company with the highest percentage of participants in our 50th Reunion Campaign will be declared The Class of 1973 50th Reunion Color Company.  For more information, either go to the Class of '73 Campaign page of this website: http://1973.usnaclasses.net/class-of-1973-campaign/
or, consult your Company Representative: 1973Company Representatives | (usnaclasses.net)
30 APRIL 2021 – Please see the CLASS INTEREST GROUPS  page for an update on the 73 Power Prayer Team.
12 APRIL 2021 – Our Class President, Dirk Mosis, shared the following presentation about the status of the Academy's Blue and Gold Program.  This presentation was distributed to all USNA class presidents.  Rev 5 USNAAA BGO Presentation
March 29, 2021 – There have been a number of recent deaths of classmates.  Please see the Last Call – Memoriams page of this website for additional information.
MARCH 4, 2021 – The 50th Reunion Committee has issued an important update.  Please go to the 50th Reunion Info page of this website ( http://1973.usnaclasses.net/50th-reunion-info/  )  for detailed information.  This information was also distributed in a class-wide email. 
25 FEBRUARY 2021 – ENSIGN FRED MINIER ETHICS RESEARCH FELLOW POSITION – The Class of 1973 has designated the Academy's Stockdale Center for Ethical Leadership as a recipient of a significant portion of the funds it donates to the Academy.  As part of that ongoing support, the Center recently established the Ensign Fred Minier Ethics Research Fellow position.  The purpose of this position is to foster full-time research into military ethics issues and problems.  It is the first such position at the Naval Academy.
Classmate Fred Minier died heroically during diving operations in 1973.  He was posthumously awarded the Navy and Marine Corps Medal for Heroism during that event.  Notably, Fred also designed our Class Crest.  Here is a Eulogy to Fred that was written by Classmate Ken Mayeaux: Fred Minier Eulogy
9 FEBRUARY 2021 – Here is a very interesting Shipmate article  about Classmate Ken Reightler's experiences with log canoe sailing in the Chesapeake Bay: Ken Reightler Shipmate Article
22 DECEMBER 2020 – Please see the following message to the class requesting support for Classmate Dave Young as he participates in the Tampa Bay Frogman Swim.  Members of our class have supported this effort in the past!
Classmates;
Kevin Callahan brought to my attention, and Dave Young connected with me, and I wanted to share with you.
On August 16, 2012, our classmate Captain Tom Feeks '73 (11th Company) and his wife Ginny's son SO1 (SEAL) Patrick Delaney Feeks (SEAL), 28, of Edgewater, MD was killed in action in Afghanistan in operations against the Taliban. Neil Beck '73 (11th Company) is Patrick's uncle.
On Sunday, January 17, 2021 Dave Young '73 (11th Company) will be swimming 3.5 miles in the Tampa Bay Frogman Swim (www.tampabayfrogman.com) to honor Patrick and his family
. The event is a fundraiser for the Navy Seal Foundation that provides immediate and ongoing support and assistance to the Naval Special Warfare community and its families. Dave (aka Irondave) has raised over $30,000 in the six years he has participated in this event. In previous years some notable classmates have joined swimming with him in this event: Neil Beck, Dr. Bob Adams (SEAL), and Admiral Eric Olson (SEAL). Because of restrictions and concerns with COVID, Dave will be the only member of the Class swimming this year.
His main goal this year is to have 100 total supporters who, even for a brief moment, will remember and honor Patrick Feeks.
As part of that goal Dave is striving for half of those supporters to be members of our class. As of this writing he has sixteen (16) Class of '73 donations (and one Class of '72).
We encourage your participation no matter the amount and join with Dave and the Class in REMEMBERING and HONORING.
Go to this LINK to join with Dave and the rest of the Class:
Non sibi,
Dirk
11 NOVEMBER 2020 – MARINE CORPS 245TH BIRTHDAY (NOVEMBER 10th) AND VETERANS DAY MESSAGES!!!!
Greetings from our Class President:
Navy Shipmates, thank you for getting us where we need to be.
Fellow Marines, semper fidelis.
Please take a moment to enjoy the following message from the Commandant of the Marine Corps:
11 AUGUST 2020 – The National POW/MIA Memorial and Museum Challenge Coin Is Now Available
Our Classmate Dennis Gillespie has asked that we share this news with the Class.  This project was formed to remember and honor many pilots we never even knew…who willingly flew in harms way and paid a huge price.  The memorial coin costs $20 and is 2 inches in diameter. For those who are interested, here is the link to the National POW/MIA Memorial and Museum website: 
https://www.powmiamemorial.org/product/national-pow-mia-challenge-coin/
02 June 2020
– Our Classmate Bob Adams recently published the second of two books which together comprise
The Doctor
series. Both are available in Amazon Kindle.  Here is a link to Bob's Author Page for those who may want to purchase either or both:   
https://amzn.to/2zanJsA
50th REUNION UPDATE – MAY 2020
Planning has begun for the 50th Reunion!  Please go to this webpage both now and in the future to keep abreast of what is in store:  http://1973.usnaclasses.net/50th-reunion-info/
ANOTHER LINK IN THE CHAIN (ALITC) UPDATE – MAY 2020
ALITC activities are on hold due to social distancing and other preventive measure triggered by the COVID 19 pandemic.  Please see the ALITC page of this website for an update from our ALITC Coordinator.
RECENT DEATHS
March 20, 2020 – Bob Wakefield passed away at his home near Annapolis following a long struggle with ALS.
April 14, 2020 – Dennis Dwyer passed away following a long struggle with Alzheimer's Disease.
Please see the Last Call-Memoriams page of this website for further details
3 JANUARY 2020 – Please see the following letter from our Class President regarding nominations for the prestigious Distinguished Graduate Award.  The guidance for nominations has recently been updated, and can be found on the Distinguished Graduates page of this website.
03 January 2020
Shipmates,
The Class of 1973 Distinguished Graduate Committee, would like to make a call for Distinguished Graduate Award (DGA) nominees for 2021. Your class committee for this year is,
Leif Hendrickson
Tom Kilcline
Jere Carroll
Gentlemen, our class has been and remains very accomplished (and distinguished) – having made a difference in a wide range of pursuits.  With sincerest admiration, we thank you and salute you!
However, there are some in our class who may have stood out in specific areas (professionally) that are more aligned with the requisite visibility and requirements to qualify for the USNAAA's Distinguished Graduate Award.
If, after reviewing all of the tenants of the DGA qualifications / requirements found on our Class Website, you would like to nominate someone from the class and take responsibility for authoring their package in accordance with the aforementioned, please submit their name (only) to the Class of 1973 DGA Committee Chairman not later than 01 March 2020.
Timelines For Nomination.
01 March: Submission of proposed nominations (name only) and the responsible author for the nomination package are due to the Class Committee Chairman. As we only submit a maximum of one nominee each year, your committee will review all proposed submissions and determine which (if any) nomination should be developed for a final nomination (package). All those nominating classmates will be apprised of the committee's decision.
01 April: The Class Committee Chairman will apprise all proposed authors of nominees of their selection or non-selection. The author of the selected nominee should then develop their package for submission in compliance with governing directives on our Class Web Site.
01 August: The author of the selected nominee shall submit their completed package to the Class Committee Chairman.   The author's package shall be submitted to the committee in compliance with guidance provided by the NAAA / Foundation and Class governing directives. We ask that authors of packages please pay close attention to requirements and timelines.
01 October: The Chairman of the Class Committee submits final package (with all required signatures) to the NAAA / Foundation.
Thank you for assisting us in identifying classmates who qualify for the prestigious recognition of the Distinguished Graduate Award.
Best,
Dirk Mosis '73
ALITC – A number of classmates participated in various Another Link in the Chain (ALITC) events last summer Please go to the ALITC  page of this website for additional information:http://1973.usnaclasses.net/a-l-i-t-c/
Please also check out the following nine minute Induction Day video on YouTube, which was recently posted by the Alumni Association. It is provided for your viewing: https://www.youtube.com/watch?v=_tuPR-edJKE
June 12, 2019 – Please check the following link for an interesting "external review" of the CAPSTONE DAY that was held on April 24, 2019.  It contains links to videos and additional information about the CAPSTONE program. External Review of Apr 2019 Capstone
CONGRATULATIONS TO DISTINGUISHED GRADUATE BOB WILLARD!
Our Classmate, ADM Robert F. Willard, USN (Ret) received the U.S. Naval Academy Alumni Association's Distinguished Graduate Award on March 22, 2019. He was one of five 2019 recipients. The following photos were taken at a reception that the Class held for Bob in the Naval Academy Club prior to the award ceremony.
The Naval Academy Alumni Assoication has added videos of the 2019 DGA ceremony to its website (see the link below). You will be able to view the full ceremony.  https://www.usna.com/DGA-past-recipients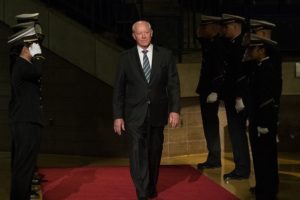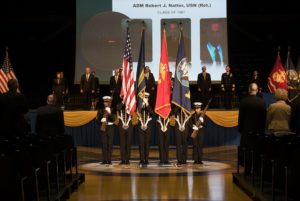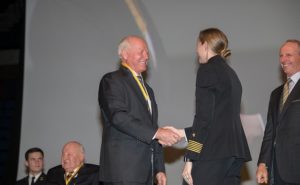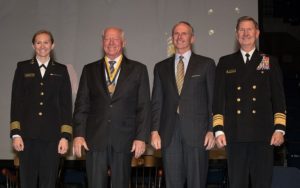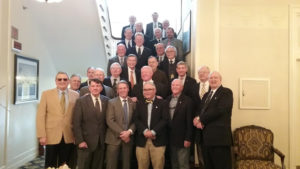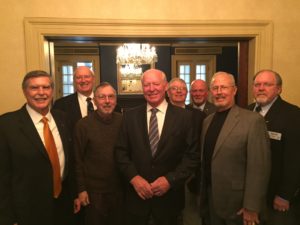 The following link will take you to a copy of the program for the ceremony. DGA Program
FEBRUARY 2, 2019 – CLASSMATES – PLEASE READ THE FOLLOWING GOOD NEWS ARTICLE CONCERNING BLUE WATER NAVY VETERANS !!! 
https://psmag.com/news/court-of-appeals-rules-in-favor-of-blue-water-vietnam-veterans
Please go to the Agent Orange Information page of this website for further information.
JANUARY 12, 2019 – DEATHS OF RICK FORZANO AND GEORGE WELSH (POSTED BY WEBMASTER)
The following links are for articles from the Annapolis Capital Gazette which report the recent deaths of former Navy football coaches Rick Forzano, who died January 9, 2019 at the age of 90, and George Welsh, who died January 2, 2019 at the age of 85.  The articles should prove interesting reading for all members of the Class of 1973.  Rick Forzano was the coach from 1969 through 1972. The article on Rick Forzano notes that "hampered by the growing popularity of professional football and the unpopularity of the Vietnam War, Forzano had difficulty recruiting and the result was a four-year record of 10-33 at Navy."
JANUARY 7, 2019 – ATTENTION CLASSMATES!  PLEASE GO THE ANOTHER LINK IN THE CHAIN (ALITC) PAGE OF THIS WEBSITE FOR A VERY IMPORTANT UPDATE ON THIS PROGRAM FROM OUR CLASSMATE JOE STEWART!
DONATIONS INVITED FOR TAMPA BAY FROGMAN SWIM
Bob Adams recently sent in the following.
http://www.tampabayfrogman.com
The above link is for the 5th annual Tampa Bay Frogman swim! Three swimmers from our class will swim the 3.1 miles in January:
Bob Adams – 6th Co
Neil Beck 11th – Co
Dave Young – 11th Co
Tom Feeks (11th Co) will be supporting this effort in honor of his Navy SEAL son Patrick Feeks who was KIA in Afghanistan.  We are raising money in his honor for the Navy SEAL Foundation.
The link below is to the 5th Annual Tampa Bay Frogman swim donation page. (you may need to copy and paste it into your browser).
We are going to swim 3.1 miles at the event (55 degree water — wet suits required!)
If you are interested in donating to a good class related cause this season….. This will take you to my donation page.  Choose an amount and then pick the Navy SEAL Foundation Tampa Bay swim option from the drop-down box.
Wish us luck! We will try to make you all proud.  Gotta go train now.
Thank you!
https://www.imathlete.com/?fbclid=IwAR1lZlll5II1VL2j0-ZelKffRkfgDdxYjMJ8swndMGQbQz7YYRiFygY2MC0#/legacy?url=%2Fdonate%2FROBERTADAMS
Merry Christmas,
Bob Adams
TASK FORCE 73 AGENT ORANGE AND VETERANS HEALTH CARE CRISES PROGRAM – September 2018
As the results of the concerted efforts of many 73'ers, numerous classmates have been helped to successfully file VA health care claims related to exposure to Agent Orange.  If you are not familiar with our Class' Agent Orange Initiative,  go to the Agent Orange Information page of this website.  This page contains a very comprehensive compendium of useful information.
Bill Short and others who have been involved with this initiative are "kicking things up a notch", and intend to formalize the Task Force as a non-profit corporation.  Please read BIll's note to the class to learn more: TF 73 Agent Orange Task Force Update 7 September 2018
===================================================================================================
IVA LIFE INSURANCE BENEFITS INFO
The following information on VA Life Insurance Benefits was forwarded by Leif Hendrickson.  Some of us may benefit from these VA programs.
DEPARTMENT OF VETERANS AFFAIRS

Regional Office and Insurance Center

Wissahickon Avenue and Manheim Street

P. O. Box 7208

Philadelphia, PA 19101

You are receiving this email as part of an outreach effort to familiarize Veterans with VA Life Insurance benefits. As a service-connected, disabled Veteran, you may find it difficult to obtain coverage through a private commercial life insurance company due to your health, or you may have to pay a high premium if you are able to get coverage. You have a limited time to apply for these benefits, so you should apply now before your eligibility expires.

Service-Disabled Veterans' Insurance (S-DVI)

S-DVI is a $10,000 life insurance policy for Veterans who have received a rating for a new VA service-connected disability within the last two years. If you meet the eligibility criteria, you can be approved for this coverage regardless of your service-connected conditions. If you are unable to work due to your service-connected conditions, you may be eligible to obtain this insurance coverage without having to pay premiums, and you may also be eligible to apply for up to an additional $30,000 of coverage. To obtain more information about S-DVI go to: https://www.benefits.va.gov/insurance/s-dvi.asp.  To apply for S-DVI go to:https://www.insurance.va.gov/Sdvi/AreYouEligible/5eca7768-18a3-4fab-9ffc-40ac0da22d1b. Our records show that you received your new rating over 18 months ago, so your eligibility to apply for this coverage will expire soon.

Other VA Benefits

In addition to VA Insurance, you may also be eligible for other VA benefits due to your service-connected disabilities. You can view a summary of your VA benefits at http://www.benefits.va.gov/BENEFITS/benefits-summary/SummaryofVABenefitsFlyer.pdf.

For more information on these benefits go to www.va.gov.

For More Information On VA Life Insurance Benefits

For more information on VA Life Insurance benefits, go to http://www.benefits.va.gov/insurance.