The 2023 Autumnal Equinox is September 23rd.  As a refresher for Bull Majors or those of us who struggled with youngster year celestial, this day marks equal length of day and night. More importantly it marks ELEVEN DAYS AND A WAKE-UP 'till we gather for our 50th!
In support of our 50th Reunion Campaign, we have been firing off a few regular "chow calls". We hope that they have been informative. Here is a "Pass in Review" in case you would like a refresher and haven't decided how and where to vector your gift.
1st Chow Call:   Intro/discussion of our three main Pillars, Chow Call 1
2nd Chow Call: Tax Wise Gouge, QCD and RMD stuff,     Chow Call 2
3rd Chow Call:  Corporation Matching Gifts,                       Chow Call 3
4th Chow Call:  George & Peggy Watt Pledge and Match, Chow Call 4
5th Chow Call:  "Honor Thy Classmate" Tribute Gifts,        Chow Call 5
Time, Tide and the finish of our 50th Reunion Campaign wait for no man.
Just a reminder, our Campaign runs through the end of 2023 so you still have time to plan for a contribution using your 2023 RMD. If you haven't made a commitment yet, now is the time.
Our Color Company Competition ends this month so shake the tree one more time and see if anyone can catch our leaders;1ST, 24th, and 28th Cos.
For those who have already stepped up, you have reason to be proud of your support of our Alma Mater. Thanks Classmates!
TO MAKE A GIFT ON-LINE VISIT:  www.usna.com/give/1973
Every Gift Counts…Every Classmate Matters!
Max Lindner, 26th Company, cmaxl.iii@gmail.com , (757) 635-8833
Mark Kohring, 8th Company, mark_kohring@mac.com , (865) 384-7309
Mike Zimet, 28th Company, mzimet73@gmail.com , (201) 954-1196
George Watt, 28th Company ,  wattgp@gmail.com , (843) 367-7058
The Class of 1973 50th Reunion Campaign: "Non Sibi – Continuing the Legacy"
MAY-JUL 2023 UPDATE

The Class of 1973 50th Reunion Campaign: "Non Sibi – Continuing the Legacy"
Classmates,
What a special month this has been (thus far): On June 6th we commemorated the 50th anniversary of throwing our hats in the air. Some of you may also be celebrating your 50th wedding anniversary with your grease girl this month. If so, Well Done Sir! On June 30th we will mark the 54th anniversary of when we all stood shoulder to shoulder in T Court and first called each other "Classmate". Our October gathering during Homecoming Weekend will be here before we know it – "…when two or three shall meet and old tales be retold"!  There is so much to reflect upon and so much to look forward to.
Back in April, we promised you we would be pushing out periodic ALLCLASS missives designed to inform and to inspire, the most recent being "Tax with Max" [aka "Tax Wisdom for 72/73 Year Olds"]. This month, we thought we would combine "Realizing the Benefits of Matching Gifts" with a few bursts of "Did you Know?". Please take a few minutes to read this Classmate epistle and please pass it on to company mates, teammates, squadron mates, shipmates, etc. Also, feel free to call or email one of us should you have questions or require additional information.
First of all, did you know you have an opportunity to leverage your Class of 1973 Campaign Gift? Let's say you worked for – and retired from – Lockheed Martin, Boeing, General Dynamics, IBM, Delta Airlines, Exxon/Mobil, or another one of the 1400 or so premier companies that currently offer matching gifts to the USNA Foundation. You may also be eligible for a match of your gift to the USNA Foundation by that corporation. Thereby, you add to your own philanthropic goals, add more impact to the program of your choice at the Naval Academy and you serve as a pace setter for the 50th Reunion Campaign. Keep in mind this is a benefit you earned while working all those years, so take full advantage of it. There are different rules and different processes required depending on the firm, but most all of them will do a dollar for dollar (or more) match up to a certain annual threshold. By the way, this IS NOT considered as taxable income – yet another plus! To find out more about your company's matching gift plan for retirees, click on this link and type in your company's name : Support the Academy – Matching Gifts – www.usna.com
And, now for a few noteworthy items of impact through private philanthropic support and this month's "Did you Know?" :
 In the Physical Mission
Navy claimed its ninth-consecutive Patriot League Presidents' Cup, winning a school record 11 conference championships during the 2022-23 academic year.
Navy defeated Army 14-10 in the Star Series presented by USAA during the 2022-23 season.  Navy is now 39-4-2 in the Star series over the last 45 years.
Coach Gavin Hickie, the first ever Class of 1973 Heinz Lenz Fellow for the Physical Mission, led Navy Men's Rugby to a National Championship with an UNDEFEATED 18-0 record in the first year it became a varsity sport.
Coach Carin Gabarra is the winningest Soccer coach of all time at the Naval Academy
[ For a special message from Heinz Lenz Fellows Gavin Hickie and Carin Gabarra click here: https://youtu.be/i09okphpdnY  ]
In the Moral Mission
A Stockdale Center-coached Ethics Bowl team from Navy won its first national championship in over 20 years.  The Naval Academy won the 2023 International Intercollegiate Ethics Bowl championship in part with Midshipmen influenced by the Class of 1973 Fred Minier Resident Ethics Fellow.
The Stockdale Center produced an unprecedented number of original products and events this year, including the nationally televised movie 'POW: Passing on Wisdom' on PBS and over 200 podcasts on topics related to ethical leadership.
[ For a preview of the Class partnership with the Stockdale Center, click here: https://youtu.be/kMNppIKhrNU ]
In the Mental Mission
This year's USNA only Rhodes Scholar was a Cyber Operations major, the first such distinction not just for USNA's cyber program, but also from any cyber program across the nation. 
All Midshipmen are required to take two cyber-related courses, regardless of majors, one as a Plebe and a second one as a 2nd Class. Our own Class of 1973 Cyber Studies Tutor is playing a key role in the success of these Midshipmen.
The Naval Academy has a fully operational Classified Education and Research Facility within Hopper Hall, the largest one at any of the Service Academies.  This year a classified elective course within the Cyber Operations major was taught there, the first at USNA and at any Service Academy.
In closing, just a reminder that we are only 26 Classmates shy of achieving 73% classmate participation for our Campaign! For those of you who are already in – and willing to do more – we thank you. Thanks in advance to those of you who plan to join us. Also, keep in mind Honor and Memorial Gifts and always remember:
Every Gift Counts…Every Classmate Matters!
Mark Kohring, 8th Company        mark_kohring@mac.com
Max Lindner, 26th Company  cmaxl.iii@gmail.com
George Watt, 28th Company wattgp@gmail.com
Mike Zimet, 28th Company mzimet73@gmail.com
TO MAKE A GIFT ON-LINE VISIT:  www.usna.com/give/1973
If you want to watch the entire video of President Dirk Mosis and the inaugural Fred Minier Ethics Fellow, please click here: https://youtu.be/J5I_FQvW7F0
The Class of 1973 50th Reunion Campaign: "Non Sibi – Continuing the Legacy"
4 JANUARY 2023 – UPDATE FROM GEORGE WATT
1973 CLASS GIVING
The following is an update from George Watt. Dollar figures, participation percentages are dynamic and will be updated after 1/1/23, but order of magnitude is very much correct.
You have likely seen a recent update posted on website  from regarding the Color Company Competition (percent of Company participation). Much progress has been made and mathematically, no Company is eliminated. And, all Companies have another 8 months or so to get up to Fleet Standard and to win the Competition (rest assured, the recognition will be incredible, distinctive and tasteful).
With that, here are other important Campaign Top Line results through the closing of the Foundation books on 10/31/2022:
Campaign Progress
Against our $2 Million Strategic Initiatives goal, we've raised $ 2,446,072 in total gifts/commitments [122% of goal]
Naval Academy Fund: $ 802,695 [268% of goal !]
Support to Academic Excellence [Cyber Tutor]: $ 481,568 [80.3% of goal]
Support to Leadership/Character Excellence & Fred Minier Ethics Fellow: $ 534,068 [89% of goal]
Support to Physical Mission & Heinz Lenz Fellow: $ 627,741 [125.6% of goal]
Against our $3 Million "Every Gift Counts/Every Classmate Matters" Goal, we've raised $ 4,369,290 [145.6% of goal]
 Against our unofficial quest to exceed $7.3 Million in lifetime giving, we've now raised $ 7,513,022
Against our other unofficial goal of raising $250,000 in support of the new Alumni Center – $ 161,036 [ 64.4% ]***
And, finally, the most audacious goal of all, 73% Participation – as of 10/31/2022 we were at 65% [495 donors].
***[ NOTE: This includes 8 Classmates/Spouses who have agreed to be listed as PLANKOWNERS  – and it's not too late for anyone else wanting to join the pace setters and be recognized as such] [DM: we have added several more PLANKOWNERS in the last two weeks!]
Gentlemen – We are clearly within striking distance of achieving something no Naval Academy 50th Reunion Class has ever done, thus again assuring we "Continue the Legacy". Bounce '73, Bounce!!!
In summary, we've met or exceeded all of our top line financial goals. However, we cannot spike the ball in the end zone until we've met our second derivative goals for Academic Excellence (the '73 Cyber Tutor) and for Leadership / Character Excellence (the Fred Minier Ethics Fellow). As far as reaching 73% in Reunion Campaign participation, Mark tells us we are only 62 shy of the mark. Therefore, we want to ask each of you to continue to reach out to your respective Company Reps and ask them to assist us in spreading the word. And, please also reach out to your own Class, Team, Service Community and professional networks to encourage others to join us in our worthy cause.
When it comes to said encouragement and making the the appeal of "Join Us…", we believe the most compelling stories one can tell when seeking philanthropic support are those of measurable impact. You may recall a video co-produced by the NAAA and the Foundation Athletics & Scholarship Programs Trustees speaking to athletics excellence and physical mission and using the Class of '73 Heinz Lenz Fellow program as an illustrative example of impact to USNA mission [https://www.youtube.com/watch?v=8PSVbFSE69w  ]. Along that same line, the Foundation staff worked with us and the Stockdale Center to produce another informational video, again featuring the impact of theClass of '73 Fred Minier Ethics Fellow:[ Classof73FireSideChat – YouTube ]" 
As you may recall, Doug Leland has organized a Bike Ride Across America with about eight of our Classmates. In true non sibi fashion, they are doing this solely to honor and remember the 100 plus of our Classmates who have gone before us. The ride will terminate in Annapolis on the weekend of our 50th Class Reunion, 5-8 October 2023, and this remembrance will be amplified by our Class Memorial Service on 6 October.Doug has suggested – and Class Officers and Foundation Leadership concur – that if you would like to tangibly honor and/or memorialize a Classmate, please consider joining Doug for the Ride, or donating in a Classmate's name to the Class of 1973 Heinz Lenz Fellow Fund [https://www.usna.com/give/73HEINZLENZFELLOW]
Thank you, Doug, for setting the example and pace for '73. Non sibi, Classmate.
"Finally, if you have been keeping track, most – if not all – of us will either be or turn 72 in calendar year 2023. This will require those of us with IRA, 401(k) and 403(b) funds to being withdrawing from those accounts. This Required Minimum Distribution (RMD) is recognized as taxable income to the IRS (and in most states). To minimize what could be a considerable tax bite (not to mention an increase in Medicare Premiums) we all have the opportunity to turn some or all of the RMD into a Qualified Charitable Distribution (QCD). This allows the philanthropic-minded to be tax smart and cash flow brilliant. We are working with our Foundation team in coming up with a set of FAQs and/or an easy to understand one-pager of "good gouge" to assist all Classmates with  this new financial mechanism. [DM: Congress has modified this law, but we should be cognizant of estate planning and how distributions to charities, such as USNA Foundation, can be tax efficient…much less the right thing to do.]
Every Gift Counts…Every Classmate Matters!" Thank you, George.
10 NOVEMBER 2022 – UPDATE ON 1973 50th REUNION COLOR COMPANY COMPETITION
Classmates, the following was recently sent to each Company Rep by Mark Kohring. '73 is doing great! We want everyone who is able to participate to join in. Thank you; thank you, Company Reps, and Mark.
Non sibi,
Dirk
Here is Mark's Update: CampaignClassParticipaion – 30 Sep 2022
"Sir, there are approximately 330 days until the great Class of '73 celebrates the 50th anniversary of their graduation.  Time, tide and our 50th reunion wait for no man."
The USNA Class of 1973 50th reunion Color Company Competition results and standings through the third calendar quarter of 2022 have been compiled and are included as an attachment to this e-mail.  Nine new donors have been added since our last report to bring us up to 64%.  This means we still need 69 new donors to put us over our goal of 73% participation.  I've been told that no 50th Reunion class before '73 has exceeded 60%.  But why stop now?  Let's torpedo this "stretch goal" out of the water.  One-third of our companies have exceeded 73%.  Bravo Zulu to you!!  We need the other two-thirds to make a push in the last ten months of the competition.
Please forward this e-mail to your company mates with your personal message thanking those who have contributed and encourage those who have not to take five minutes to go to www.usna.com/give/1973 and make a donation.  This not only supports the Naval Academy mission, but sends a message to the young men and women who are filling the same shoes we wore when we pledged our allegiance to the Blue and Gold in T-Court on 30 June 1969.
Twenty-one companies have at least one non-grad contributor.  If you don't think they help the cause, just look at the statistics for the 5th and 17th Companies.  Give a shout out to our 34 non-grad brothers who have helped us strive toward our goal.
Thanks to each of you for keeping the lines of communication open to the great Class of 1973.  I'm honored and proud to call you "CLASSMATE"!!!!!!
GO NAVY!!  BEAT ARMY!!  
GO CLASS OF 1973!!
73% for '73!!
Mark Kohring '73
11 MARCH 2022 – PLEASE READ THE FOLLOWING REQUEST LETTER FROM OUR CLASS PRESIDENT, DIRK MOSIS
Classmates:
Circa 25 February 2022, I sent approximately 800 snail mail letters to Classmates for whom the Foundation had USPS addresses (see letter, below). If you received it, you can delete this e-mail, pencils down. If you did not receive it, we do not have an accurate address for you, so please send me and your Company Representative an updated address.
I sent the following: a thank you/please give letter accompanied by pledge form (below is a non interactive pdf) and a stamped, addressed envelope to the Foundation. For those of you who responded, thank you. For those who did not receive the letter, this e-mail is just to be sure you do not feel ignored nor left out. For those so inclined, the links below provide an opportunity to join your Classmates who have heeded the call.
Thank you. Go Navy!
Non sibi,
Dirk
THE LETTER:
January 2022
Happy New Year! I hope you had a Merry Christmas and a Happy Holiday Season! Army over Navy in football was a great ending to '21.
We have about 600 days and a wake up until our 50th Reunion, to be held over the weekend of 7 October, 2023. I look forward to seeing you and yours for our largest Class reunion ever.
Our Legacy Gift Campaign is achieving monetary goals, for the most part. If you have participated, thank you very much. The Midshipmen are the beneficiaries of our gifts, and we are making a difference.
Thanks to our great Class of 1973, Midshipmen are already receiving cyber tutoring at the Academic Center; the Fred Minier Resident Ethics Fellow at the Stockdale Center is in place; non-revenue coaches are being recognized and supported financially via our Heinz Lenz Fellow Award; and, the Superintendent and the Naval Academy Foundation are benefiting greatly from our gift to the unrestricted Naval Academy Fund. Additionally, many of you have given to other Foundation-sanctioned activities such as the Parachute Team, Crew, Rugby, and more. Thank you!
If you have not given, I ask you to consider using the enclosed form and envelope to do so, or link http://www.usna.com/give/1973 , or to contact our Foundation Liaison, Dan Quattrini, at dan.quattrini@usna.com  or at (952) 210-5533 to make your gift.
Our goal is 73% participation. We are at approximately 51%. To those who haven't given, we need you. If you have a question, please contact me or your Company Representative. I realize you may give to other worthy philanthropic activities, but I ask you to consider a gift to our campaign. If you have given, and want to further assist, please use the enclosed materials or contact Dan.
For 99% of us, we are better men for having attended the Academy. Thank you for considering your gift to assist those Midshipmen who, in all likelihood, are not much different from all of us 50 years ago.
/s/
Non sibi,
Dirk
7 MAY 2021 – A number of Classmates thought that in the competitive spirit of a COLOR COMPANY COMPETITION to help our Class meet its ambitious fundraising goal.  The following email is being sent to announce this initiative,  which we are calling the 50th Reunion Color Company Competition:  All-class email
The following Frequently-Asked-Questions files provide details on the intent and scope of the Competition, including details on how to make a donation.
For you convenience, the first of these lists is provided below:
The Class of 1973 Campaign- Non Sibi…Continuing the Legacy
The 50th Reunion Color Company Competition
 Frequently Asked Questions
Q: Does any gift count?
A: Our campaign was built on the principle that "Every Gift Counts…Every Classmate Matters". Therefore, any gift or multi-year pledge or any estate intention made through the Naval Academy Foundation during the Campaign period (September 2015 through December 2023) will count.
Q: What is expected of me?
A: Making any philanthropic commitment is a very personal decision. In making your decision regarding your own gift or commitment to the "Non Sibi – Continuing the Legacy Campaign", of course you should consider your own situation and that of your family; your financial means; your net worth; your area of interest at USNA. But, please also consider this: "What has your Naval Academy experience, your degree and your commission meant to you over the past 50 years?" Once you've taken all of the above into account, please make a gift that is meaningful to you. Remember: "Every Gift Counts…Every Classmate Matters!".
How do I make a Class of 1973 Campaign gift? The easiest and most secure way is to go to:
or email clay.evans@usna.com or dan.quattrini@usna.com
You can also make an estate gift that will be counted toward the class project.  You can make an estate gift through your will or trust  ( https://usna.planmylegacy.org/wills-and-living-trusts ) or you can make the Naval Academy Foundation a beneficiary of an IRA or other account.  (Designating Beneficiaries | the United States Naval Academy Foundation (planmylegacy.org)   Once your gift is in place, complete an Estate Commitment form ( Layout 1 (planmylegacy.org) and send with supporting documentation to Patti Bender, Senior Director of Planned Giving (patti.bender@usna.com)
Q: I am turning 70 1/2 this calendar year (or before the campaign ends). Does that offer me philanthropic opportunities unique to where I am in life?
A: Absolutely!  See the "Can I make a gift from my IRA?" Question and Answer below.
 Can I make my gift from my IRA?   Yes. Once you are 70 ½ you can make a qualified charitable distribution from your IRA (IRA QCD). Details about IRA QCDs and instructions for making a gift can be found at www.usna.com/plannedgivingIRAQCD
IRA QCDs do not generate a tax deduction, but you don't have to pay the deferred income tax due on the withdrawal.
Is it possible to gift appreciated securities? Yes. Go to:
Scroll down to "Other Ways to Give" and click on "Securities" to see the process.
Can I make a gift via a multi-year pledge?  Yes.  A pledge is an option as you navigate online through the donation process at:
You can make a pledge for up to 5 years paid monthly, quarterly, or annually.  For example, you could make a pledge of $73 per month until you turn age 73.  The total amount of the pledge will count for the Campaign even if the pledge period extends past our 50th reunion.
Can I direct a corporate matching gift to the Class of '73 Campaign? Yes. Many corporations offer retired employees the benefit of matching gift programs.  Go to:
Scroll down to "Other Ways to Give" and click on "Matching Gifts".
How will my gift be allocated? Unless you specify otherwise, your gift will be split as follows:
Naval Academy Fund – 15%
Heinz Lenz Fellowship for the Physical Mission- 30%
Class of 1973 Ensign Fred Minier Ethics Fellow – 30%
Academic Excellence – 25%
Can I change the predetermined allocation percentages for my donation? Yes. If you would like to deviate from the pre-set allocations, please email dan.quattrini@usna.com or clay.evans@usna.com who will assist you
Can I vector some or all my gift to something other than the predetermined areas, such as the rowing program, skydiving club, etc.?  Yes. Please email dan.quattrini@usna.com or clay.evans@usna.com and they will assist you.
Can my gift be made in honor or memory of a classmate? Yes. A "Tribute Gift" is a great way to honor or memorialize a classmate.  Go to: www.usna.com/give/1973
Scroll down to "Other Ways to Give" and click on "Tribute Gifts".
Does my gift count towards President's Circle? Absolutely.  The President's Circle is the premier giving society of the Naval Academy Foundation, recognizing more than 1,500 generous donors annually.
Gifts totaling $2500 or more per calendar year qualifies you for President's Circle.  There are several "Courtesies" extended to President's Circle donors.   As of December 2020, there were over 40 members of our class giving at this level and more.  Please join us!
For specific questions regarding President's Circle contact: Megan.Farmer@usna.com or go to https://www.usna.com/pc
What is The 50th Reunion Color Company Competition?
 In the Spring of 2021, The 50th Reunion Campaign Committee will launch The 50th Reunion Color Company Competition to help boost the participation from all of our 36 Companies.  No 50th reunion class has gone above 60% participation, but the Class of 1973 is NOT just any class. Our goal is to have 73% participation.  The Company with the highest percentage of participants in our 50th Reunion Campaign will be declared The Class of 1973 50th Reunion Color Company.  For more information, go to the Class of '73's website: http://1973.usnaclasses.net
 or consult with your Company Rep.
 Would a Tribute Gift count towards the Color Company Competition? If a Tribute Gift is made during the campaign, of course it would count for you. Note: It would not be credited as a gift from the honored or memorialized classmate.
 How do I find out where my company stands in the Color Company Competition? Standings will be published periodically through the Class of '73 website: http://1973.usnaclasses.net
Company Reps will be updated quarterly.
When is the Color Company Competition over? Your gift needs to be received by the USNA Foundation not later than August 31, 2023 to count in the Color Company Competition. If you are pledging over a period of time, the initial pledge installment needs to be made by August 31, 2023.
If my company wins the Color Company Competition, how will we be recognized? Although the Color Company Competition Committee is working with the Class Campaign Leadership Council and current USNA Leadership on appropriate recognition for the winning Color Company during our Reunion weekend in the Fall 2023, for now we must respond "TBD" and suggest you continue to check in on the Class Website: http://1973.usnaclasses.net
for more information as our 50th Reunion gathering approaches!
 Who can I reach out to if I have other questions? See points of contact below:
General questions – George Watt '73, GPWATT@1973.usna.com
Color Company Competition questions- Mike Zimet '73, mzimet73@gmail.com
President's Circle – Megan Farmer, megan.farmer@usna.com, or https://www.usna.com/pc
Class Gifts – Dan Quattrini , dan.quattrini@usna.com  952-320-5533
Estate and life income gifts – Patti Bender, patti.bender@usna.com  410-295-4187
IRA QCDs – Liz Root,  elizabeth.root@usna.com  410-295-4126
"Every Gift Counts…Every Classmate Matters!"
25 FEBRUARY 2021 – ENSIGN FRED MINIER ETHICS RESEARCH FELLOW POSITION – The Class of 1973 has designated the Academy's Stockdale Center for Ethical Leadership as a recipient of a substantial portion of the funds it donates to the Academy.  As part of that ongoing support, the Center recently established the Ensign Fred Minier Ethics Research Fellow position.  The purpose of this position is to foster full-time research into military ethics issues and problems.  It is the first such position at the Naval Academy.
Classmate Fred Minier died heroically during diving operations in 1973.  He was posthumously awarded the Navy and Marine Corps Medal for Heroism during that event.  Notably, Fred also designed our Class Crest.  Here is a Eulogy to Fred that was written by Classmate Ken Mayeaux:  Fred Minier Eulogy
JUNE 2020 – HERE IS AN UPDATE ON THE CURRENT STATUS OF THE CLASS OF 1973 CAMPAIGN: June 2020 Update
HERE IS A DESCRIPTION OF THE PURPOSE AND GOALS OF THE CLASS OF 1973 CAMPAIGN:
Classmates,
We have used this greeting since we first met on June 30, 1969. At the appointed time that afternoon, we stood shoulder to shoulder on Tecumseh Court, took an oath of office, swore to support and defend the Constitution, and began a lifetime of commitment. And, we also began a lifetime of recognizing each other as a "classmate" – a privilege and a bond that have grown stronger these past fifty years.
Some 1,379 of us arrived at the Naval Academy that summer willing to take the road less traveled when compared to our high school contemporaries. We combined a sense of awe – and some bewilderment – with a more important sense of purpose. That sense began as we absorbed then Rear Admiral Calvert's message to "The Gentlemen of the Class of 1973":
"Before you lies a four year cruise which leads to a commission as an officer in the Naval Service…You gentlemen will be furnishing a major share of the top Naval Leaders of the United States over the turn of the century…it is my desire that no man graduate from this Academy as a commissioned officer under whose command I would not personally be happy to serve".
Additionally, we developed a sense of history – from "Don't Give Up The Ship" to the Mexican Monument to the Battleship Maine, the Shores of Tripoli, Midway, and everything else we learned about the Naval Service and the legacy we would one day inherit, to include our own adaptation of the words above the Chapel Doors: "Non Sibi, Sed Patriae". But, ours was also a summer of history – 21 days after we were sworn in, we sat in the company wardrooms with our detailers and watched the successful Apollo 11 moon landing, yet another indication of a sense of purpose, along with the attributes of courage and commitment.
We recently witnessed the arrival of our 50 year successor class, 2023. Over 130 classmates and spouses participated in the Parent Picnic and then witnessed 2023's swearing in ceremony as they took the same oath as ours on Thursday, June 27th while standing in the same spot as we did in 1969. With their arrival we now take on a third sense – a sense of place. Although we could easily rest on the laurels of our collective Navy/Marine Corps service; contributions to industry, academia, medicine and the law; and 50 years of emulating our class motto "Non Sibi", we instead have the opportunity to assume our rightful place in the pantheon of other great Naval Academy classes who have gone before us as we continue to build a lasting legacy of service, volunteerism and philanthropy.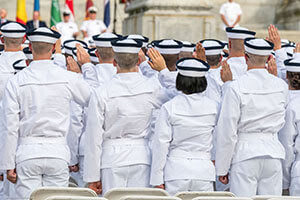 You will be hearing and reading more about volunteer opportunities as part of the Another Link in the Chain Initiative (ALITC) in mentoring the Class of 2023. And, beginning with this first communique, you will also be hearing more about the Class of 1973 50th Reunion Campaign "Continuing the Legacy". This campaign will align to four important and strategic philanthropic pillars at the Naval Academy: Academic Excellence, Leadership & Character Excellence, Athletics Excellence and support of the Naval Academy Fund. We are particularly gratified by the giving of over 200 classmates who responded to the "73 for 73" initiative with a total of $925,000 in new gifts and commitments. Thanks to your support we are well on our way in all four pillars.
This will be a campaign aligned to the motto of "non sibi"; therefore, it will be a campaign about supporting our alma mater [today and tomorrow], moreso than about us or any individual classmate. Although we will offer more information on specific campaign goals in subsequent communiques, the most important objective we've set is that of classmate participation. In that regard, every gift will count – and the giving of each and every classmate will matter.
In closing, we thank each of you in advance for all you've done thus far, and for what you will continue to do between now and our 50th reunion in the fall of 2023. You will be hearing and reading more over these next four years about the impact of our collective giving, numerous ways to participate and other information relevant to Naval Academy philanthropy. This campaign will be the most important one we as a class have ever taken on. With its successful conclusion, we will complete the cycle we began fifty years ago of a sense of purpose, a sense of history and a sense of place.
The primary "target projects" for classmate giving under this campaign are the following:
Stockdale Center [Leadership & Character Excellence]
The Academic Center [ Academic Excellence]
The Class of 1973 Heinz Lenz Fellowship [Athletics Excellence]
The Naval Academy Fund [Discretionary Gifts/Funds]
Go Navy…Semper Fi…Non Sibi
Dirk Mosis, Class President
George Watt, Fundraising Chair
Your Campaign Leadership Council:
Bookie Boland

Jim Brill

Mike Zimet

Jim Zortman

Ross Harding

Bruce Hargus

John Harvey

Don Jefferson

Craig Kissel

Tom Kiernan

Mark Kohring

Rich Kramlich

Max Lindner

Dirk Mosis

Chuck Munns

Steve Ogden

Eric Olson

Jack Owen

Tom Storch

George Watt

Bob Willard