Class of 1973 Tailgate Parties are held outside the stadium beneath a large tent.  Each party is typically sponsored by one of the warfare communities, which provide food.  No reservations are required.  Donations are requested – typically, $20 per attendee – to cover cost for the beer, wine, and other refreshments.
Class of 1973 Tailgate Location
Navy Athletic Director Chet Gladchuk, Jr. and his wife recently donated a flagpole to the Class of 1973.  It is located at the stadium, just above the clearing where our tailgate celebrations are held.  The following picture shows classmates who were present at the September 15, 2018 tailgate "gathered around the flagpole.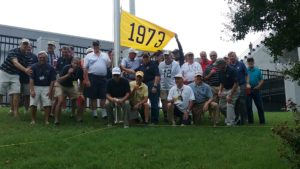 See links to photos from various tailgates below the following table.
Date/Time
Location
Event/Opponent
Class Tailgate Sponsors
Sat  Apr 14
N-MC Stadium, Annapolis
Open Spring Practice
Meet in Class Section?
Sat  Sept 1
AT Aloha Stadium, Honolulu
Hawaii Rainbow Warriors
1973 Class 45th Reunion
Sat  Sept 8

3:00 pm

N-MC Stadium, Annapolis
Memphis Tigers
Tailgate – starts at 1 pm
Sat Sept 15

3:00 pm

N-MC Stadium, Annapolis
Lehigh Mountain Hawks
Tailgate – starts at 1 pm
Sat Sept 22
AT Gerald J. Ford Stadium, Dallas TX
SMU Mustangs
 
Sat Sept 29
Off – no game
 
 
Sat Oct 6
AT US Air Force Academy Stadium Colorado Springs CO
Air Force Falcons
 
Sat Oct 13

3:00 pm

N-MC Stadium, Annapolis
Temple Owls
Tailgate – starts at 1 pm
Sat Oct 21

3:00 pm

N-MC Stadium, Annapolis
Houston Cougars
Tailgate – starts at 1 pm
Sat Oct 27
AT Qualcom Stadium San Diego, CA
Notre Dame Fighting Irish
 
Sat Nov 3
AT Nippert Stadium Cincinnati, OH
Cincinnati Bearcats
 
Sat Nov 10
AT Spectrum Stadium, Orlando FL
UCF Knights
 
Sat Nov 17

3:00 pm

N-MC Stadium, Annapolis
Tulsa Golden Hurricanes
Tailgate – starts at 1 pm
Sat Nov 24
AT Yulman Stadium, New Orleans, LA
Tulane Green Wave
 
Sat Dec 1
TBD
American Championship hosted by East or West Division Winner
 
Sat Dec 8
AT Lincoln Financial Field, Philadelphia PA
Army Black Knights
 
Photographs from Sep 8, 2018 Tailgate:  Sep 8 Tailgate
Photographs from Se5 15, 2018 Tailgate:  Sep 15 Tailgate