NAVY FOOTBALL 2021 SCHEDULE – As of 19 Apr 2022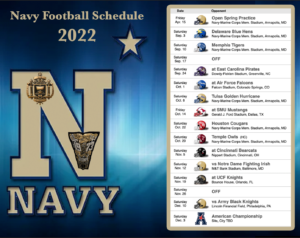 ———————————————————————————-
Class of 1973 Tailgate Parties have traditionally been held outside the stadium beneath a large tent located off Taylor Avenue near the Gate 6 parking lot entrance.  Link to tailgate location map:  http://1973.usnaclasses.net/wp-content/uploads/sites/24/2018/04/Class-of-1973-Tailgate-Location.pdf
More information will be forthcoming about the format for this season's Tailgate Parties – e.g., costs, which warefare community "sponsors" each event, and so forth.
During normal times, no reservations are required. Each party is typically sponsored by one of the warfare communities, which provide food.  For "Potluck" tailgates, everyone should bring something suitable for a tailgate event. Donations are requested – typically, $20 per attendee – to cover cost for the beer, wine, bottled water, and other refreshments that are provided for each event.
Navy Athletic Director Chet Gladchuk, Jr. and his wife donated a flagpole to the Class of 1973.  It is located at the stadium, just above the clearing where our tailgate celebrations are held.  The following picture shows classmates who were present at the September 15, 2018 tailgate "gathered around the flagpole.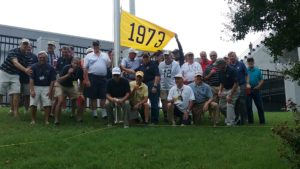 See links to photos from various tailgates below:
Photographs from Sep 8, 2018 Tailgate:  Sep 8 Tailgate
Photographs from Se5 15, 2018 Tailgate:  Sep 15 Tailgate
Navy 2019 Football Schedule

6 Home Games – Kickoff Times not yet Available

Date/Time
Location
Opponent
Class Tailgate Sponsors
Sat Aug 31
N-MC Memorial Stadium
Holy Cross Crusaders
POTLUCK
Sat Sep 7
N.A.
OFF
N.A.
Sat Sep 14
N-MC Stadium, Annapolis
East Carolina Panthers
SUBMARINERS
Thur Sep 26
Liberty Bowl Mem. Stadium, Memphis
At Memphis Tigers
N.A.
Sat Oct 5
N-MC Stadium, Annapolis
Air Force Falcons
 POTLUCK
Sat Oct 12
H.A. Chapman Stadium, Tulsa
 Tulsa Golden Hurricane
 N.A.
Sat Oct 19
N-MC Stadium, Annapolis
USF Bulls
 AVIATORS/SWO'S
Sat Oct 26

HOMECOMING

N-MC Stadium, Annapolis
Tulane Green Wave

STAFF CORPS

HOMECOMING

Fri Nov 1
Rentschler Field, East Rutherford
UConn Huskies
N.A.
Sat Nov 16
Notre Dame Stadium, S. Bend
Notre Dame Fighting Irish
 N.A.
Sat Nov 23
N-MC Stadium, Annapolis
SMU Mustangs
MARINES
Sat Nov 30
TDECU Stadium, Houston
Houston Cougars
N.A.
Sat Dec 7
TBD
American Conference Championship
Sat Dec 14
Lincoln Financial Field, Philadelphia
Army Black Knights
N.A.