Welcome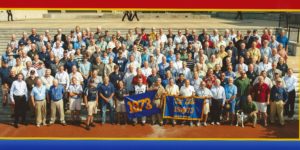 Welcome to the website for the USNA Class of 1973.
The Class Officers, Company Representatives and Company  pages are password protected because they contain information that may considered sensitive. The password is our class motto (hint: 2 latin words, all lower case).
You may contact the webmaster at the following e-mail address: 1973usna@gmail.com
31 OCT 2021 – The Naval Academy Alumni Association and Fund sent an email broadcast concerning a virtual meeting on 10 Nov 2021.  Please see the details contained in that email, including a registration link, on the Class News and Events page of this website.
MAY 7, 2021 – ANNOUNCING THE 50TH REUNION COLOR COMPANY COMPETITION
In the Spring of 2021, the 50th Reunion Campaign Committee launches the 50th Reunion Color Company Competition to help boost the participation from all of our 36 Companies.  No 50th reunion class has gone above 60% participation, but the Class of 1973 is NOT just any class. Our goal is to have 73% participation.  The Company with the highest percentage of participants in our 50th Reunion Campaign will be declared The Class of 1973 50th Reunion Color Company.  For more information, either go to the Class of '73 Campaign page of this website: http://1973.usnaclasses.net/class-of-1973-campaign/
or, consult your Company Representative: 1973Company Representatives | (usnaclasses.net)