10 MAY 2022 – SERVICE ACADEMY CAREER CONFEENCE IS BACK-IN-BUSINESS, IN-PERSON!
SACC:  After 26 years, the Service Academy Career Conference (SACC) is continuing to better serve our service academy alumni. While much is changing, you can count on SACC to continue providing outstanding opportunities to connect with industry-leading companies and premier academic institutions as you navigate career transitions and consider pursuing graduate degrees. SACC is back to in person in 2022. Whether you're searching for top talent for your organization or a new opportunity for yourself, join and/or contact us for SACC.  Your Alumni Community is here to support you!  Career Programs department has assisted thousands of grads with their military to civilian transitions, job changes within the civilian sector and meeting prestigious university admissions recruiters for veteran friendly advanced education opportunities (MBA, EMBA and technical degrees).  Career Counseling is available by appointment to alumni making career/job transitions from the military or moving in the civilian sector. Email Joe Fagan.
Here is the link for more information and registration: https://sacc-jobfair.com/
10 MARCH 2022 – THE ALUMNI ASSOCIATION AND FOUNDATION RECENTLY ANNOUNCED THE 2022 UNITED STATES NAVAL ACADEMY LEADERSHIP FORUM, TO BE HELD ON APRIL 29-30, 2022, IN ALUMNI HALL. 
THIS INAUGURAL EVENT IS HOSTED BY THE NAVAL ACADEMY MINORITY ASSOCIATION (NAMA), A SHARED INTEREST GROUP.
THIS YEAR'S THEME IS LEADING IN A DIVERSE ENVIRONMENT, AND THE GOAL IS TO PROVIDE ALUMNI AN OPPORTUNITY TO "ENGAGE, INSPIRE AND HAVE YOUR VOICE HEARD".

TO FIND OUT MORE AND/OR REGISTER, HERE IS THE REGISTRATION LINK:

  REGISTER TODAY
6 MARCH 2022 – THE ALUMNI ASSOCIATION HAS RELEASED THE RESULTS OF THE 2021 ALUMNI SURVEY.  YOU MAY CLICK ON THE LINK BELOW TO ACCESS THOSE RESULTS.
To all Naval Academy alumni:

On March 31, 2021, the former Chair of the Board of Trustees Admiral Samuel Locklear '77 invited you to complete the 2021 Alumni Survey to "ensure we have the vital data and information to inform our path forward together."

Today, Admiral Mark Ferguson '78, the current Chair of the Board of Trustees, is releasing the 2021 Alumni Survey Report and its materials.

We now invite you to explore those materials at this link. You will need to be logged into usna.com to view the reports. The Alumni Association will be conducting virtual town hall briefings in coordination with the Board of Trustees Regional Trustees over the next few months.

Thank you, and Go Navy!
4 JANUARY 2022 – This is what Annapolis looks like after a rare 12-inch snowfall.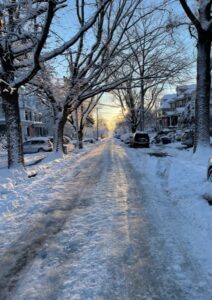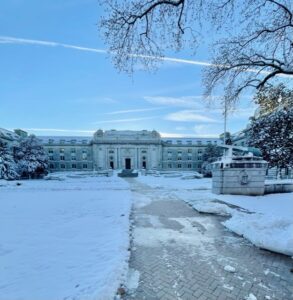 THIS PAGE CONTAINS RECENT INFORMATION ABOUT  EVENTS AND PROGRAMS AT THE ACADEMY
21 JUL 2021 – Colonel J.P McDonough, USMC, the 89th Commandant at the Naval Academy, issued the following "Commandant's Intent" letter to the Brigade of Midshipmen:  Commandant's Intent Letter
23 JUN 2021 – The Naval Academy Alumni Association Board of Trustees (BOT) met for the Spring 2021 Board meeting on 14 May 2021. Here  are the reports from the meeting:
Alumni Association President's Report
USNA Superintendent's Spring presentation
Here is a summary of the meeting from Rich Cataldi ('69), the USNAAA Board of Trustees Central Region Representative:
Following the regular business meeting, Admiral Sam Locklear '77, USN (Ret.), was relieved by Admiral Mark Ferguson '78, USN (Ret.), as the Chairman of the Board of Trustees. Admiral Locklear made a difference, and we wish him fair winds and following seas.
I look forward to working with Admiral Ferguson and I am confident that he will make a difference as well. He and I had good get-acquainted phone call that lasted more than 30 minutes. He asked good questions concerning my experiences as a trustee, as a member of the admissions committee and member of the Board's Executive Committee. He was interested in my perception on what the Association does right and where it can improve in serving all our alumni. I expect ADM Ferguson will apply his military and civilian experience to keep USNAAA moving in a positive direction.
The latest USNA information has the Class of 2025 arriving in 3 groups beginning 28 June with the NAPS graduates, then about 500 appointees on the 29th and 30th, with the Oath of Office ceremony scheduled for the evening of June 30. Families of the incoming plebes are invited to attend the 7 PM ceremony, which will also be livestreamed. All requests for personal swearing-in ceremonies have been approved.
The next big USNAAA BOT effort will be to develop a new 10-year strategic plan using the data collected during the recent alumni survey.  The next BOT meeting will take place on Thursday, 9 December 2021. Hopefully, this will be a face-to-face meeting. As always, please feel free to contact me if you have any questions or if I can be of any service to you.
I wish you and your loved ones all the best in 2021.
Richard A. Cataldi (1969)
14 MAY 2021 – The USNA Council of Class Presidents met on 29 April 2021.  Here are the presentations from that meeting:
12 APR 2021 – The following message and presentation concerning the status of the Blue and Gold Program was sent to all USNA Class Presidents.  Here is the presentation: Rev 5 USNAAA BGO Presentation
Dear Fellow Class Presidents:
The USNA Blue and Gold Officer Program is an important part of the candidate recruitment and the USNA application process that most of us are personally familiar with
Many of us wonder what is the current state of affairs of our USNA Blue and Gold Officer Program
The attached was sent to all current Alumni Association Trustees from a fellow Trustee, Bill Squires, responding to that question
It also includes some current details and stats about other USNA-related and Midshipmen-related matters
I am passing it along for your consideration for further distribution to your Classmates should you deem it appropriate
With all of my best wishes always
Steve Comiskey '69
Chairman COCP
10 JUN 2020 – The Naval Academy Alumni Association sent the following very important message to Naval Academy Alumni and other members of the Naval Academy Community: 10 JUN 2020 – Message on Core Values
7 JUN 2020 – THE FOLLOWING MESSAGE WAS SENT TO ALL USNA CLASSES AND REGIONAL CHAPTERS: Message from Admiral Locklear, USNA Foundation
13 MAY 2020 – FIRST ROUND OF NAVAL ACADEMY MIDSHIPMEN COMMISSIONED IN CORONOVIRUS ALTERED CEREMONY
Please follow this link a Military Times article on the 2020 USNA commissioning ceremonies: https://www.military.com/daily-news/2020/05/13/first-round-naval-academy-midshipmen-commissioned-coronavirus-altered-ceremony.html
Here is a link to photographs of the Blue Angels flyover in honor of the Class of 2020 graduation: https://www.flickr.com/photos/unitedstatesnavalacademy/albums/72157714383132843
18 MAY 2020 –  USNA PLEBE SUMMER DATE SHIFTS
 ANNAPOLIS, Md. — Induction for the United States Naval Academy Class of 2024, originally scheduled for Jun. 25, 2020, has been delayed by approximately one week. The Naval Academy will receive the incoming class over a four-day period, Jun. 29 – Jul. 2, 2020. Incoming students will be notified of their new report date and time over the next week.
"Induction is being shifted by one week in order to take the necessary, precautionary steps to safely induct and train the Class of 2024 amidst the COVID-19 pandemic," said Naval Academy Superintendent Vice Adm. Sean S. Buck.
Following the final move out of the Class of 2020 from Bancroft Hall, Naval Academy staff will shift its focus to the deliberate move out of the remaining classes of midshipmen and a thorough cleaning and sanitizing of the dormitory.
To maximize the safety of incoming plebes, their family members and friends, and USNA staff, Induction will be closed to all guests, including parents, family and friends, the media, and members of the public (including individuals with Yard access). A final decision regarding Plebe Parents' Weekend (currently scheduled for Aug. 7-9) is still pending and will be announced at a later date.
The incoming plebe class will participate in a 14-day restriction of movement (ROM) upon arrival to USNA. We will also ask incoming plebes through additional correspondence to self-isolate in their homes and minimize contact with others to the maximum extent possible during the two-week period prior to their report date. 
"During the ROM at USNA, plebes will be indoctrinated in the Naval Academy's moral and mental missions through online lectures, and the study of the Navy's Bluejacket Manual and Midshipmen Regulations Manual," said Commandant of Midshipmen Capt. T.R. Buchanan. "Similarly, upper class midshipmen and staff who will be involved with the training of the incoming class over plebe summer will be in a ROM status to ensure the health and safety of all involved."
USNA is committed to protecting the health of our force. We have been and will remain in close coordination with state and federal public health authorities to ensure the well-being of our personnel and local population.
For more information about the Naval Academy, please visit: www.usna.edu or our Facebook page.
FAQs can be found at www.usna.edu/COVID-19 
21 MAY 2020 – A message from Athletic Director Chet Gladchuk on the current state of Naval Academy Athletics. 
Please follow this link to a very informative statement from Chet: http://navyathletics.fan-one.com/nl/jsp/m.jsp?c=%40DHKiK2qLP35pvWzAIuqk9FO4%2F2k3m6BDFB1j%2FZZg88Y%3D