July 18, 2019 – The next Another Link in the Chain (ALITC) event will be the Turnover Parade, to be held at 1700 on Thursday August 15, 2019, at "historic" Worden Field.  Our Classmate Eric Olson will be the reviewing officer for the Turnover Parade.  Please go to the ALITC  page of this website for additional information:http://1973.usnaclasses.net/a-l-i-t-c/
Please also check out the following nine minute Induction Day video on YouTube, which was recently posted by the Alumni Association. It is provided for your viewing: https://www.youtube.com/watch?v=_tuPR-edJKE
June 12, 2019 – Please check the following link for an interesting "external review" of the CAPSTONE DAY that was held on April 24, 2019.  It contains links to videos and additional information about the CAPSTONE program. External Review of Apr 2019 Capstone
CONGRATULATIONS TO DISTINGUISHED GRADUATE BOB WILLARD!
Our Classmate, ADM Robert F. Willard, USN (Ret) received the U.S. Naval Academy Alumni Association's Distinguished Graduate Award on March 22, 2019. He was one of five 2019 recipients. The following photos were taken at a reception that the Class held for Bob in the Naval Academy Club prior to the award ceremony.
The Naval Academy Alumni Assoication has added videos of the 2019 DGA ceremony to its website (see the link below). You will be able to view the full ceremony.  https://www.usna.com/DGA-past-recipients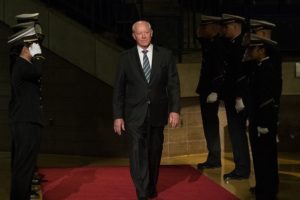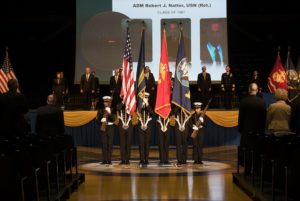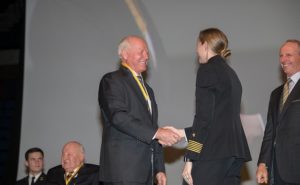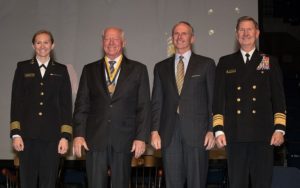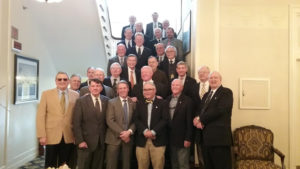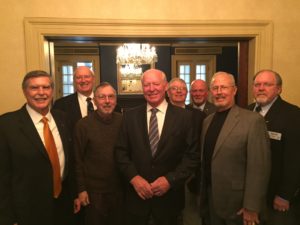 The following link will take you to a copy of the program for the ceremony. DGA Program
FEBRUARY 2, 2019 – CLASSMATES – PLEASE READ THE FOLLOWING GOOD NEWS ARTICLE CONCERNING BLUE WATER NAVY VETERANS !!! 
https://psmag.com/news/court-of-appeals-rules-in-favor-of-blue-water-vietnam-veterans
Please go to the Agent Orange Information page of this website for further information.
JANUARY 12, 2019 – DEATHS OF RICK FORZANO AND GEORGE WELSH (POSTED BY WEBMASTER)
The following links are for articles from the Annapolis Capital Gazette which report the recent deaths of former Navy football coaches Rick Forzano, who died January 9, 2019 at the age of 90, and George Welsh, who died January 2, 2019 at the age of 85.  The articles should prove interesting reading for all members of the Class of 1973.  Rick Forzano was the coach from 1969 through 1972. The article on Rick Forzano notes that "hampered by the growing popularity of professional football and the unpopularity of the Vietnam War, Forzano had difficulty recruiting and the result was a four-year record of 10-33 at Navy."
JANUARY 7, 2019 – ATTENTION CLASSMATES!  PLEASE GO THE ANOTHER LINK IN THE CHAIN (ALITC) PAGE OF THIS WEBSITE FOR A VERY IMPORTANT UPDATE ON THIS PROGRAM FROM OUR CLASSMATE JOE STEWART!
DONATIONS INVITED FOR TAMPA BAY FROGMAN SWIM
Bob Adams recently sent in the following.
http://www.tampabayfrogman.com
The above link is for the 5th annual Tampa Bay Frogman swim! Three swimmers from our class will swim the 3.1 miles in January:
Bob Adams – 6th Co
Neil Beck 11th – Co
Dave Young – 11th Co
Tom Feeks (11th Co) will be supporting this effort in honor of his Navy SEAL son Patrick Feeks who was KIA in Afghanistan.  We are raising money in his honor for the Navy SEAL Foundation.
The link below is to the 5th Annual Tampa Bay Frogman swim donation page. (you may need to copy and paste it into your browser).
We are going to swim 3.1 miles at the event (55 degree water — wet suits required!)
If you are interested in donating to a good class related cause this season….. This will take you to my donation page.  Choose an amount and then pick the Navy SEAL Foundation Tampa Bay swim option from the drop-down box.
Wish us luck! We will try to make you all proud.  Gotta go train now.
Thank you!
https://www.imathlete.com/?fbclid=IwAR1lZlll5II1VL2j0-ZelKffRkfgDdxYjMJ8swndMGQbQz7YYRiFygY2MC0#/legacy?url=%2Fdonate%2FROBERTADAMS
Merry Christmas,
Bob Adams
TASK FORCE 73 AGENT ORANGE AND VETERANS HEALTH CARE CRISES PROGRAM – September 2018
As the results of the concerted efforts of many 73'ers, numerous classmates have been helped to successfully file VA health care claims related to exposure to Agent Orange.  If you are not familiar with our Class' Agent Orange Initiative,  go to the Agent Orange Information page of this website.  This page contains a very comprehensive compendium of useful information.
Bill Short and others who have been involved with this initiative are "kicking things up a notch", and intend to formalize the Task Force as a non-profit corporation.  Please read BIll's note to the class to learn more: TF 73 Agent Orange Task Force Update 7 September 2018
===================================================================================================
IVA LIFE INSURANCE BENEFITS INFO
The following information on VA Life Insurance Benefits was forwarded by Leif Hendrickson.  Some of us may benefit from these VA programs.
DEPARTMENT OF VETERANS AFFAIRS

Regional Office and Insurance Center

Wissahickon Avenue and Manheim Street

P. O. Box 7208

Philadelphia, PA 19101

You are receiving this email as part of an outreach effort to familiarize Veterans with VA Life Insurance benefits. As a service-connected, disabled Veteran, you may find it difficult to obtain coverage through a private commercial life insurance company due to your health, or you may have to pay a high premium if you are able to get coverage. You have a limited time to apply for these benefits, so you should apply now before your eligibility expires.

Service-Disabled Veterans' Insurance (S-DVI)

S-DVI is a $10,000 life insurance policy for Veterans who have received a rating for a new VA service-connected disability within the last two years. If you meet the eligibility criteria, you can be approved for this coverage regardless of your service-connected conditions. If you are unable to work due to your service-connected conditions, you may be eligible to obtain this insurance coverage without having to pay premiums, and you may also be eligible to apply for up to an additional $30,000 of coverage. To obtain more information about S-DVI go to: https://www.benefits.va.gov/insurance/s-dvi.asp.  To apply for S-DVI go to:https://www.insurance.va.gov/Sdvi/AreYouEligible/5eca7768-18a3-4fab-9ffc-40ac0da22d1b. Our records show that you received your new rating over 18 months ago, so your eligibility to apply for this coverage will expire soon.

Other VA Benefits

In addition to VA Insurance, you may also be eligible for other VA benefits due to your service-connected disabilities. You can view a summary of your VA benefits at http://www.benefits.va.gov/BENEFITS/benefits-summary/SummaryofVABenefitsFlyer.pdf.

For more information on these benefits go to www.va.gov.

For More Information On VA Life Insurance Benefits

For more information on VA Life Insurance benefits, go to http://www.benefits.va.gov/insurance.